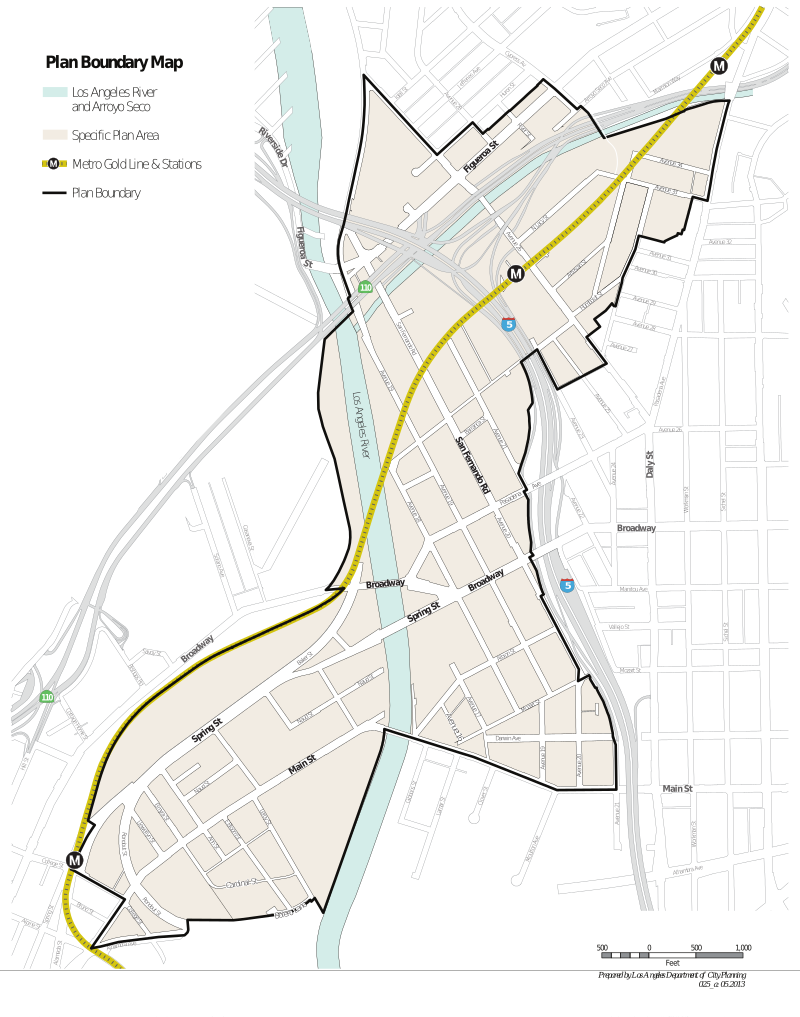 Scoping Meeting – Thursday, April 22 @ 4pm
EIR Scoping Comments are due by May 8, 2021 @ 4 p.m.
Case Number: ENV-2021-2643-EIR
Los Angeles City Planning is launching a new effort to evaluate and amend the Cornfield Arroyo Seco Specific Plan (CASP). Specifically, City Planning is looking to update the CASP's incentive zoning regulations so that they can better advance opportunities for affordable and mixed-income housing. The effort is anticipated to be a multi-year process.
Scoping Meeting
Date: Thursday, April 22 @ 4pm
Location: Online/Telephone
Attend a webinar on the Cornfield Arroyo Seco Specific Plan (CASP) Update. This EIR Public Scoping Meeting will be held virtually in an online format to share information regarding the Project and the environmental review process and to provide information on how interested parties can provide written comments. This informational session will be your opportunity to ask questions about the Notice of Preparation (NOP) which was recently posted online.
For information about how to join the meeting, visit https://planning.lacity.org/plans-policies/community-plan-update/casp-update-events/environmental-impact-report-eir-scoping.
Background
The CASP is a land use plan adopted in 2013, developed in collaboration with community stakeholders and housing advocates, that rezoned largely industrial properties adjacent to the Los Angeles River, and in proximity to three Metro L (Gold) Line stations. The CASP encompasses an area of 660 acres (1.0 square mile), with approximately 6,201 individuals (1,814 households) residing within its boundaries in 2018. Additionally, the CASP abuts the existing communities of Chinatown, Lincoln Heights, and Cypress Park.
One of the primary goals of the CASP is to facilitate the production of affordable housing for Extremely Low and Very Low Income households. Approximately 48 percent of renter households in the CASP are Extremely Low or Very Low Income, compared to 30 percent with the City of Los Angeles as a whole. However, since the CASP's adoption, both affordable and mixed-income housing production within the CASP has been limited. In response to a Council motion, City Planning is embarking on a work program that will update the CASP so that it can better advance housing opportunities for all Angelenos.
Please click here to view the CASP Update Fact Sheet and Frequently Asked Questions.
Update Components
• Recalibrating zoning regulations and incentives to incentivize affordable housing development more strongly;
• Identifying additional opportunity areas that could allow for affordable and mixed-income housing development;
• Updating the Specific Plan to reflect current and future demographic, regulatory, environmental, and economic conditions; and
• Updating the Specific Plan's standards, processes, and procedures to be more intuitive and transparent.
Purpose of the EIR
As described in Section 15123(a) and 15362 of the CEQA Guidelines, an EIR is an informational document that will inform public agency decision-makers and the public of the significant environmental effects of a project, identify possible ways to minimize any significant effects, and describe reasonable project alternatives. Therefore, the purpose of this Draft EIR is to focus the discussion on the Project's potential environmental effects that the City of Los Angeles (City), as the Lead Agency, has determined to be, or potentially may be significant. Feasible mitigation measures are recommended, when applicable, that could reduce or avoid the Project's significant environmental impacts.
Based on the project description and the Lead Agency's understanding of the environmental issues associated with the CASP update, the following topics will be analyzed in the EIR:
● Aesthetics
● Air Quality
● Biological Resources
● Cultural Resources
● Energy
● Geology and Soils
● Greenhouse Gas Emissions
● Hazards and Hazardous Materials
● Hydrology and Water Quality
● Land Use and Planning
● Mineral Resources
● Noise
● Population and Housing
● Public Services
● Recreation
● Transportation
● Tribal Cultural Resources
● Utilities and Service Systems
● Wildfire
The EIR will analyze the reasonably foreseeable indirect physical changes to the environment in the above topic areas caused by the project, including the updates to the CASP and any other necessary amendments to the General Plan or the LAMC.
Document Availability
The NOP can be viewed on the City of Los Angeles Department of City Planning website at: https://planning.lacity.org/development-services/environmental-review/published-documents.
To request an appointment to view a hard copy of the documents, please contact Clare Kelley at (213) 978- 1207 or clare.kelley@lacity.org.
Public Comments
The Lead Agency solicits comments regarding the scope, content and specificity of the EIR from all interested parties requesting notice, responsible agencies, agencies with jurisdiction by law, trustee agencies, and involved agencies. Please send written/typed comments (including a name, telephone number, and contact information) electronically or by mail to the following:
Mail:
City of Los Angeles, Department of City Planning
ATTN: Clare Kelley, City Planner
Case Numbers: CPC-2021-2642-SP; ENV-2021-2643-EIR
200 N. Spring Street, Room 667, Los Angeles, CA 90012
E-mail:
clare.kelley@lacity.org
Phone:
(213) 978-1207
In accordance with CEQA Section 15082, the Notice of Preparation is being circulated for a 30-day comment period. The City of Los Angeles requests that written comments be provided at the earliest possible date, but no later than 5:00 p.m. on May 8, 2021.
For more information, visit https://planning.lacity.org/plans-policies/casp-update.