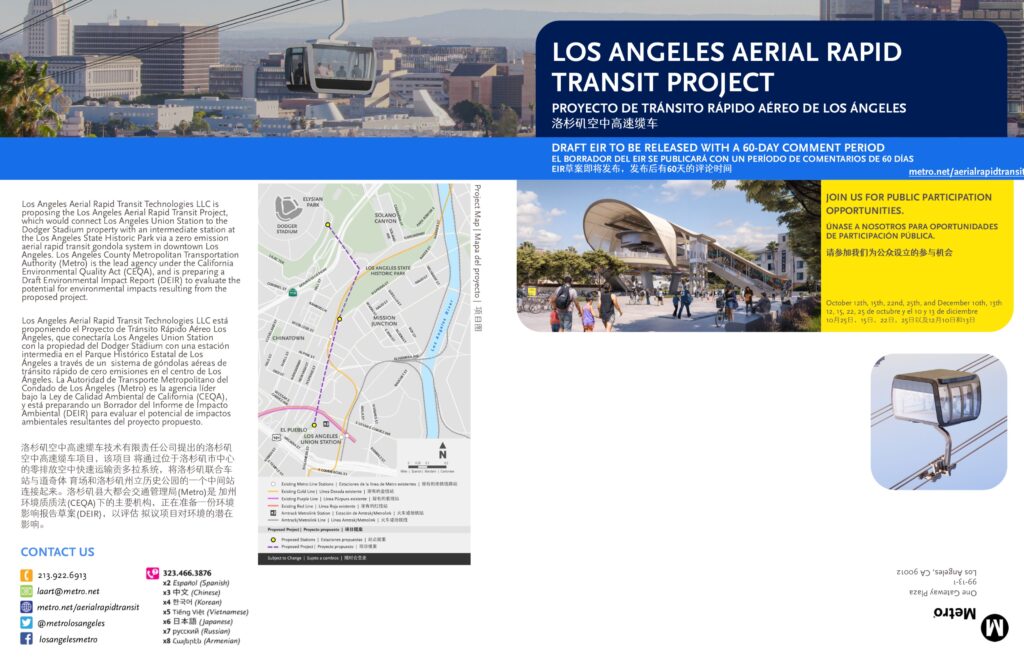 Metro is hosting six meetings over the next two months on the LA ART Gondola to Dodger Stadium. Three of the meetings will be via Zoom/telephone and three of the meetings will be in-person at Union Station.
The first 2 meetings on October 12th and October 15th are informational meetings prior to the release of the draft EIR, which is scheduled to be released on October 17, 2022. There will be a 60-day comment period for the Draft EIR, and 4 more meetings during that period.
Meeting #1 is tomorrow via Zoom/telephone:
When: Wednesday, October 12, 2022, 5 – 7pm
Zoom Link: tinyurl.com/laart-communityinfo
Meeting ID: 872 3520 3753
Call-in: 213-338-8477
Meeting #2 is on Saturday, and is in-person:
When: Saturday, October 15, 2022, 10am – 12pm
Where: Los Angeles Union Station Ticket Concourse 800 N. Alameda Street, Los Angeles, CA 90012
See brochure/announcement here.
For more information, including all of the documents for this project, visit metro.net/aerialrapidtransit.