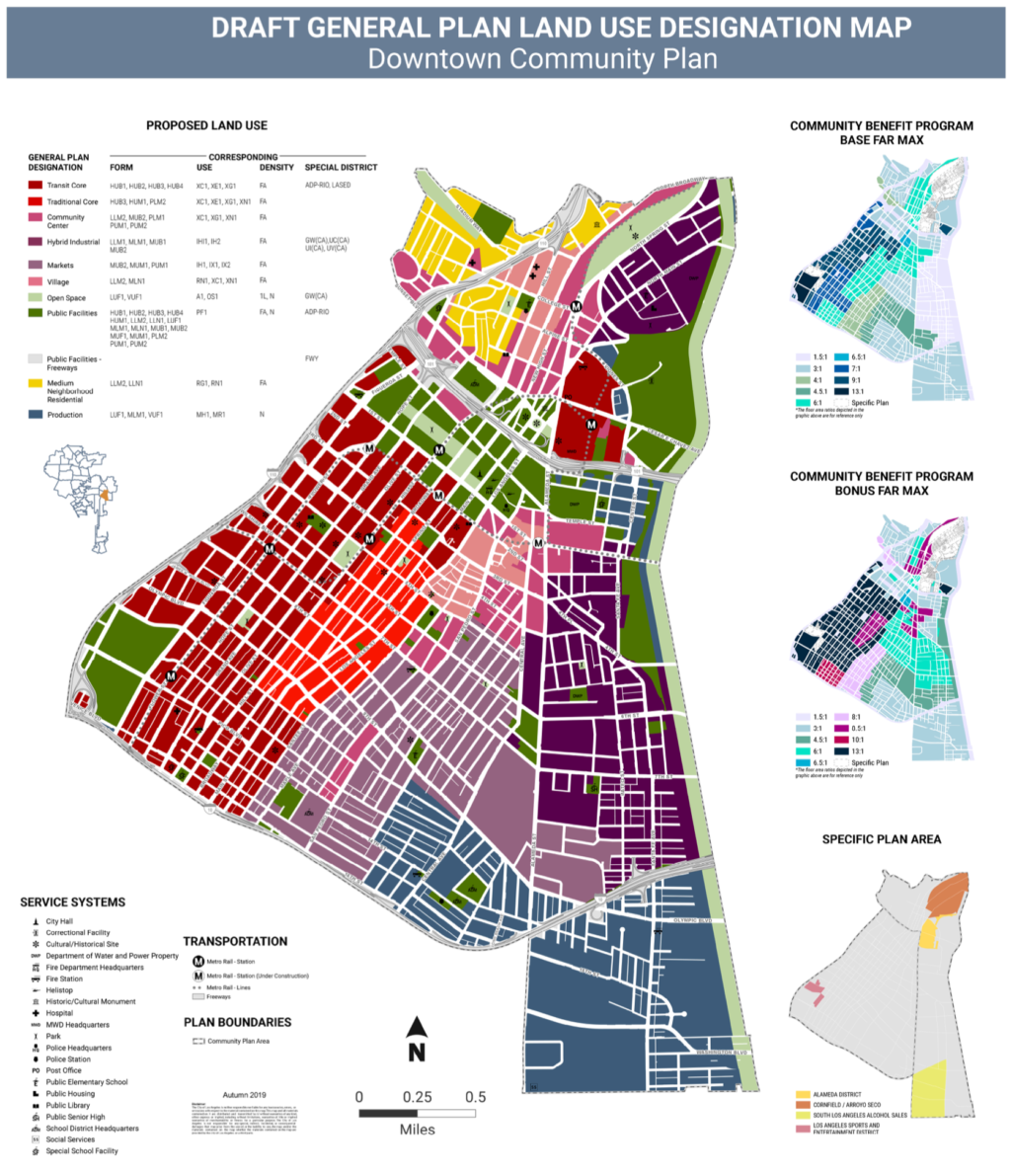 UPDATE – September 22, 2020: City Planning announced that the comment period for the Draft Environmental Impact Report (DEIR) has been extended to December 4, 2020 at 5 p.m.
The DTLA 2040 Community Plan affects most of the areas served by HCNNC including Chinatown, Victor Heights, El Pueblo, and portions of Solano Canyon.
On August 6, Los Angeles City Planning shared an updated Draft Downtown Community Plan text, updated draft zoning map, the full Preliminary Draft of the new Zoning Code, and the Draft Environmental Impact Report (EIR). These updates follow the drafts of the zoning districts proposed for Downtown that were provided to the public in October 2019 for initial review.
These drafts address the built environment and allowed uses throughout Downtown. The new material provides the technical rules and functions needed to establish a new Zoning Code. City Planning anticipates making further refinements to the Draft Downtown Plan and Preliminary Draft of the New Zoning Code. Updated draft documents will be shared with the public in advance of the public hearing in the coming months.
Release Components
Preliminary Draft Zoning Code
Draft Downtown Community Plan
Community Benefits Program Summary
Draft General Plan Land Use Designation Map
Interactive Zoning Map
Printable (PDF) Zoning Maps
Frequently Ask Questions (FAQ)
Draft Environment Impact Report (EIR)
Summary of policy and zoning updates since 2019
If you would like to print a copy of the Draft EIR, a consolidated version is available for download as a PDF here. Note: It is a large file (249 MB) and may take a few minutes to download.
Provide Comments
To provide comments on the Draft Downtown Community Plan Text, Plan Map, or Zoning Map, please contact Brittany Arceneaux at brittany.arceneaux@lacity.org.
To provide comments on the Preliminary Draft Zoning Code, please fill out the comment form here.
Comments on the Draft Environmental Impact Report must be submitted by 5 p.m. on Tuesday, October 20, 2020Friday, December 4, 2020.
If you wish to submit comments on the Draft EIR, please submit your written comments (including a name, telephone number, and contact information and the following file number ENV-2017-433-EIR), via mail or e-mail to the following addresses:
Mail:
Brittany Arceneaux, City Planner
City of Los Angeles Department of City Planning
200 North Spring Street, Room 667
Los Angeles, CA 90012
Email:
brittany.arceneaux@lacity.org
For more information, including a timeline and information about outreach events, visit Planning4LA.org/dtla2040.