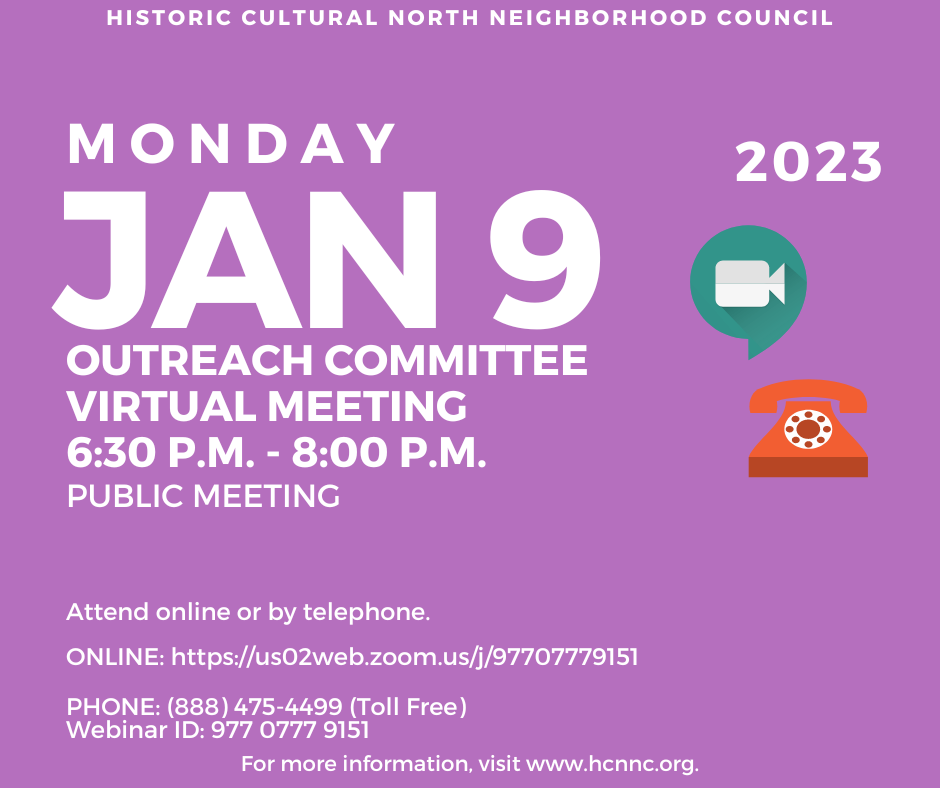 When: Monday, January 9, 2023 at 6:30 – 8:00 p.m.
Where: Virtual Meeting via Zoom or Telephone
Agenda (English): http://hcnnc.org/wp-content/uploads/2023/01/OCAgenda-01-09-23-HCNNC.pdf
Supporting Documents: https://bit.ly/HCNNC-01-09-23-OC-Docs
Zoom Meeting Link: https://us02web.zoom.us/j/97707779151
Announcement
Please join us for the HCNNC's Outreach Committee meeting. Everyone is welcome to attend and participate.
How to Attend the Meeting
There are two options to join the meeting:
(1) Online – https://us02web.zoom.us/j/97707779151
(2) Phone – Dial 1-888-475-4499. Then Enter This Webinar ID: 977 0777 9151 and Press #.
Note: Other phone numbers are available for calling into Zoom meetings. See list below.
How to Participate/Submit Public Comment:
(1) Online users – Use the 'Raise Hand' function.
(2) Phone users – Press * 9 to raise your hand, Press * 6 to unmute yourself.
(3) Public comment can also be submitted by email or telephone (voicemail) prior to the meeting. Public comments will be entered into the official record for the meeting.
—Please send your comments to—
Email: board@hcnnc.org.
Voicemail: (323) 716-3918
*****Zoom Telephone Numbers*****
(For higher quality, dial a number based on your current location.)
+1 669 900 6833 (San Jose)
+1 346 248 7799 (Houston)
+1 253 215 8782 (Seattle)
+1 929 205 6099 (New York)
+1 301 715 8592 (Washington DC)
+1 312 626 6799 (Chicago)
+1 888 475 4499 (Toll Free)
+1 833 548 0276 (Toll Free)
+1 833 548 0282 (Toll Free)
+1 877 853 5257 (Toll Free)