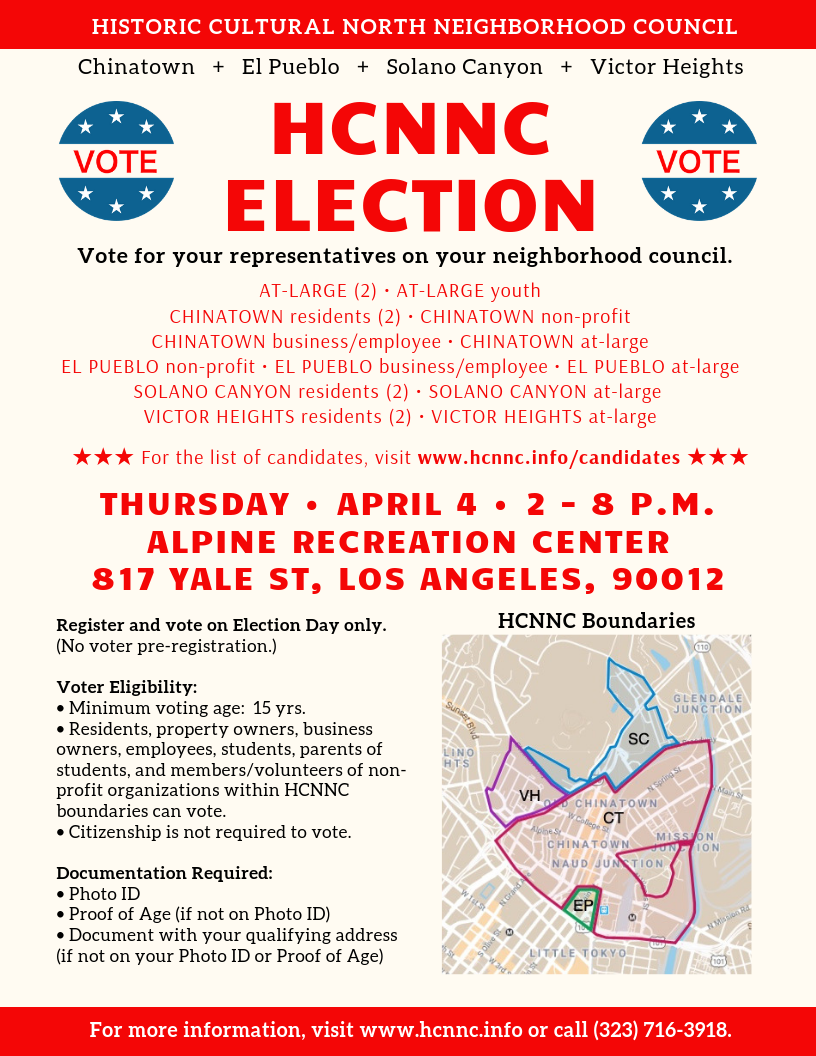 Vote for your representatives on your neighborhood council!
Click here to view the list of candidates and read candidate statements on the City Clerk's website.
Register and vote in person, on Election Day only.
(No voter pre-registration.)
WHEN: Thursday, April 4, 2019, 2:00 – 8:00 p.m.
WHERE: Alpine Recreation Center, 817 Yale St, Los Angeles, CA, 90012
Voter Eligibility:
• Minimum voting age: 15 yrs.
• Residents, property owners, business owners, employees, students, parents of students, and members/volunteers of non-profit organizations within HCNNC boundaries can vote.
• Citizenship is not required to vote.
Documentation Required:
• Photo ID
• Proof of Age (if not on Photo ID)
• Document with your name and qualifying address (if not on your Photo ID or Proof of Age)
— examples include utility bill, property tax statement, deed, business license, business card, pay stub, non-profit organization or school roster, letter from a non-profit organization/church/school, etc.
Click here to view detailed information from the City Clerk about documents required for voter registration.
Note: Stakeholders can vote provisionally if they do not have the appropriate documents on Election Day. Provisional voters will have three business days after Election Day to submit any information necessary for the City Clerk to determine their eligibility to vote and count their ballot.
Download and Print Flyers (PDF):